The Cultural Association organized several initiatives including photo, ethnographic, art exhibitions and craftsman exhibitions across the valley, in and outside the region of Friuli-Venezia Giulia.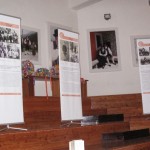 School and pupils of the Resia Valley
This exhibition was conceived as a way to continue and explore further the chosen topic for the Resian Calendar – Naš kolindrin 2010. This calendar is dedicated to the school and the pupils and it features period images. The exhibition provides food for thought for the future of such important institution.
It was open to visitors in August 2010 in the Resia Valley and then was moved to Palazzo Veneziano (Venetian Palace) in Malborghetto during April and May 2011.