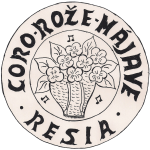 CHORAL GROUP "ROŽE MAJAVE"
The women choral group "Rože Majave" was fonde in 1993 to promote and divulge the typical popular songs of Resia Valley, situated in the north – east part of Friuli Venezia Giulia region in the north – east of Italy. At the moment, the group is not active anymore. The songs are only the typical ones of the tradition of this valley without harmonization and musical direction. The name "Rože Majave" means "May's flwers" and this because the other traditional name of the valley is the "Flowers Valley". The vast repertory has a lot of songs that draw the inspiration from the daily life and from the necessity of man to communicate in fantastic, ironic, dramatic manners one's own emotions. The songs can be divided in: sacred songs, love songs, erudite songs. These songs describe the beauty of the valley and the relationship between man and nature of the Resian people. The group has taken part in many performances and festivals in Italy and in Slovenia. In 1996, in Koper (Slovenia) it received a prize for the diffusion of archaic, original and genuine songs and melodies. In the same year, the group presented a book entitled "Te Rozajanske uiže" / Resian songs, with 68 song texts. In 1997, the group produced the first audio record entitled "Rozajanave pujajo" / Resians sing, with 11 songs.
KORO "ROŽE MAJAVE"
Te žënski koro "Rože Majave" jë bil ǵan gorë lëta 1993 za branit anu zdëlat poznät te rozajanske wüže.
Koro jë pël köj te rozajanske wuže teköj ni so je pëli jüdi tu-w Reziji nur noga tïmpa čenče nine armonizacjuni. To so wžë ne par lit, ka koro ni pujë već.
Jë se zbralu jïmë Rožë Majave zajtö ka ta rozajanska dulïna mëla jïmë pa da Rožïna dulïna anu pa zajtö ka to jë bilu fïs tu-w vïlažej, ka se jë čülu pët po dulïni .
Koro jë pël karjë nih wuž: wüže ka rumunïjo nejveć od žïwjosta od tih domaćih judi. So wuže te carkwonske, te ka so si pëli ti mladi ka so se tëli, wüže ka rumunïjo od tih lipih guri anu od tih lipih mëstuw, ka so tu-w Reziji.
Koro je pël tu-w već krajuw tu-w naši Reǵuni anu tu-w Sloveniji. Lëta 1996 tu-w Kapodištriji/Kopru an jë ričäväl dan premjö zajtö ka an jïskal daržat gorë te rozajanske wüže.Rüdi itaga lëta koro jë pražantäl lïbrin "Te rozajanske uiže" anu to lëtu dopo kaseto "Rozajanavi pujajo".