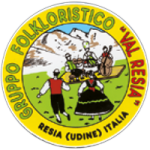 FOLK GROUP "RESIA VALLEY"
The folk group "Val Resia" was founded in 1838, when some people from Resia Valley danced before the Austrian Emperor Ferdinand, the first, and his wife in Udine in October of the same year. The group represents the typical music and dance of the Resian people who live in the north – east of the region Friuli Venezia Giulia in Province of Udine, Italy. Resia valley is well known for its unique and particular cultural heritage still now studied by many renowned experts and scientists. The typical Resian folk tradition is still alive and especially during Carnival, village festivals, weddings, … Resian people dance on this old traditional music.
The costumes used by members of the group are those typical of the XVIII century: the young man dress in black woollen trousers, white shirts, coloured waistcoats and beautiful white hand – made socks. Girls dress in long black dresses, they wear coloured waistcoats, white blouses, coloured waistbands and black headscarves. The widow wear only black dresses, the wife dress a brown or a dark green costume. During Carnival times our group uses the lipe bile maškire / the beautiful white carnival costumes. This carnival costume consist of 3 white skirts, a white shirt, a lot of coloured ribbons and a beautiful hat made by thousand of coloured flowers made of paper.
The instruments played by the small "orchestra" are the violin, called cïtira in Resian dialect, and bünkula a sort of violoncello. Violin and violoncello were introduced recently in the history of the music, before Resian players played a sort of bagpipes. The third instrument is represented by the foot's beat and it is very, very important. The folk group "Val Resia" is considered the oldest folk group in Italy.
The programme of the Folk Group "Val Resia" includes a lot of dances, the most famous are: Lipa ma Marica / My beautiful Mary; Ta püstawa / The Carnival song; Ta Zagatina / The song of Zagata a beautiful place on the mountain; Černi potök / Black rivulet; Ta Solbaška / The song of Stolvizza, a small village in Resia Valley; Poti me döpo Lipjë / My roads in Lipjë; Kölu / The ring and Ta Kuškritawa the dance of young people who celebrate 20th birthday.
Gruppo Folkloristico "Val Resia"
Comitato per la conservazione del folklore resiano
Via Varcota, 1 – 33010 Resia/Rezija (Udine)
President: Dino Valente
Mobi. +39 3883842696, +39 334 3674981
Tel. 0039 0433 53428
E-mail: gfvalresia@gmail.com